Sports Premium
Impact of Sports Premium at Chirton School - 2015-2016
Chirton grant allocation stood at £8500 for the above academic year.
This was spent in the following ways:
Description

Amount

Charlie Austin Football School

Multi Skills Sports and After School Football Club

£1700.00

Netball Associated Sports

£605.00

PE costs C Stewart

£418.74

Lavington School Primary Programme

£591.66

Tennis Membership

£15.00

Manchester Utd Tickets & Coach

£390.00

£3720.40

Below is a narrative to help identify and measure the impact of each of our priorities, as well as an indication of next steps.
Opportunities to see live sport
Recognising that enjoyment of sport is an important way of encouraging children to themselves, we wanted to increase the number of pupils who had been along to sports events.
At the start of the year, a worship to launch our sports targets indicated that less than 10% pupils had been along and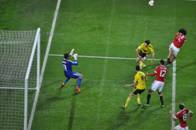 paid to watch a sports event, either on their own or with family or friends. A series of school-run events, held in conjunction with other local schools were run, with highlights including a trip to Old Trafford to watch Manchester United (sadly) get knocked out of the Carling Cup and a chance to watch tennis finals live at Wimbledon on the last day of the tournament.
Next Steps…
Signpost other local sports events and promotions through newsletters and website
Incorporate successful events such as Wimbledon visit into the regular school calendar
Link annual 'sport in focus' with a visit to live events
Collect data in future years to assess the level of long-term impact
Cluster event – Rio 2016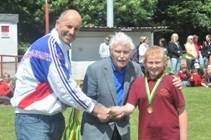 A year in the planning and organising, 9 schools in the cluster held a collaborative sports week in June, where all pupils had the chance to take part in an experiential or a competitive event. All pupils at Chirton were fortunate in being the smallest school in the cluster for once, as this allowed each of the pupils to take part in at least three events, which ranged from archery to sailing, from beach volleyball to shooting and culminated with a parade through the closed town centre; the chance to participate or cheer on the school team in an inter-school athletics event and then to finish off, we had a Closing Ceremony, with dance and music, where Olympic Swimmer Andy Rolley and sports legend Dickie Davies spoke and presented medals to pupils within each school.
Feedback was hugely positive from pupils and parents and the buzz created, both during and prior (due to Torch Competitions and a live blog and dedicated website) proved very motivating and effective in raising the profile.
Next Steps…
Legacy of an annual cluster athletics event
Extend Staff PE CPD programme
Following on from the outreach work last year, we purchased further time with Lavington School to ensure that we continued to provide on-going staff CPD in the 'learn, try, fly' approach that has started to prove most effective in up-skilling staff. This was rotated over the year to ensure that all staff were able to benefit from some external CPD. Feedback was positive, with staff not only feeling more confident but also feeling able to apply some of what they had learnt to subsequent different lessons.
Following this we carried out a survey to assess next priorities / gaps in areas of skills, knowledge and understanding. When the results of this were analysed, it was decided that we needed to look at some whole-staff CPD, preferably based around a whole-school resource to ensure there is a consistent approach to the subject within all classes.
Next Steps…
Continue programme of using secondary support to work alongside different staff
Ensure a consistent approach to delivering appropriate high-quality PE across the school
Following positive staff development extend range of CPD providers to meet changing needs.
Provide CPD opportunities for support staff and coaches who are involved in regular delivery of PE at Chirton.
Extend the provision of, participation and competition in PE across the school.

With the use of external coaches and staff, we have held various in-school and after-school clubs which have been well attended, with 69% of KS2 have been to at least one active club during the year. The school football festival has become an established part of the cluster sporting calendar. This year eight teams participated, providing opportunities for 'new and squad / club players' to represent their school team rather than just the first-choice strongest team, which filled an important niche for the other schools.
Next Steps…
Prepare for and enter teams into at least 2 other events over the course of the year
Sport-in-focus development: netball
Following the work Trudie Procter has done with us through working with the older children, we have entered the Hi-Five netball league as well as the Devizes tournament. With all this training it was a very special moment when we won our first match! Other good results have followed and this has certainly helped the team's approach to other matches. We have also started to get younger pupils taking part as well as pupils who had not played before – we have now had 13 pupils who have represented the school in netball (almost 45% of KS2).
Next Steps…
Signpost opportunities for pupils to attend netball training, including Y3/4 and Y5/6 Netball Clubs at All Cannings and Devizes Netball Club
Participate in a Y3/4 Netball festival
Sports Funding Priority Areas 2016-17
Targets

Actions

Evaluation

Raise the quality of teaching, learning and assessment in weekly PE lessons

Purchase Real PE resources

Organise staff CPD, including external coaches and TAs (including TD Day)

Plan implementation of new scheme.

Familiarise then adopt new assessment

Monitor and evaluate impact.

Continue with secondary school outreach - appropriate staff / classes

Our sports Subject Leader has now rolled the Real PE Programme out to all classes who are exposed to it on a weekly basis; children and teachers are more engaged and enthused about PE. Subject Leader continues to attend update courses.

Increase the breadth and range of external coaches / experts and opportunities to work with staff and pupils

Identify a range of approved coaches (including Secondary School Sports outreach).

Draw up a programme to ensure they work across the school throughout the year.

Each class works with an external coach once a week; school staff support and shadow in order to build on existing skills.

Develop links and signpost pupils to local sports clubs

Invite local clubs into school for pupil taster sessions.

Promote Devizes Lions Club Sports Event

Devizes Lions Club Worship held and Devizes Tag Rugby Coach in to work with UKS2 children.

Focused development of resources / new opportunities:

Tag Rugby

Purchase new resources – bibs, tags, balls,

Organise coaching / INSET for staff

Participation in County festival.

Signposts to local clubs.

Netball and Tag Rugby local festivals attended. Participation sessions at local secondary school attended by all year groups throughout the year.

Goalposts, water bottles and new tags purchased.

Impact of Sports Premium at Chirton School - 2016-2017
Chirton grant allocation stood at £8225 for the above academic year.
This was spent in the following ways: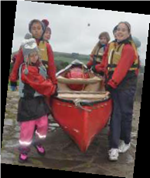 Description

Amount

Real PE

1845.00

Charlie Austin Football School

Multi Skills Sports and After School Football Club

600.00

Wimbledon Costs

137.92

Lavington School Primary Programme

1604.98

PE Coaches

554.26

Netball Associated Sports

515.75

Transport Costs

400.00

Sports Resources

33.35

Below is a narrative to help identify and measure the impact of each of our priorities, as well as an indication of next steps.
Raising the Quality of PE Lessons across the School
After attending an initial Real PE training session, a joint TD Day was held with All Cannings to ensure all teachers and staff who regularly deliver PE to pupils gained a strong practical understanding of the key principles behind the programme as well as the planning and delivery of lessons. Subsequent planning time allowed teachers to familiarise themselves and then deliver lessons and as confidence grew, PE governors were invited in to see the learning in action. Staff have now begun to develop the use of the 'learning values cogs' to support the development of positive attitudes, both within PE lessons and into other subjects.
Next Steps…
Incorporate assessment materials into REAL PE lessons.
Embed the use of REAL PE within mixed-age KS1 classes.
Broaden Provision to Enrich the PE Curriculum
School now uses 3 different providers / external coaches, with one attached to each class. This now makes sure that all pupils have the opportunity to work alongside them and for all staff to ensure they are up skilled to deliver high-quality PE in the future. All staff reported a significant increase in their own confidence and knowledge and pupil responses were overwhelmingly positive. The standard of secondary school outreach remained good despite a change in staff and there was a good breadth offered over the course of the year from all providers.
Next Steps…
Review programme to ensure classes receive new experiences
Consider reintroducing PE as a PPA activity
Sport-in-focus development: tag rugby
Following input from Andy Smith (Devizes Rugby Club) when working with the older children, and through developing staff coaching skills through CPD, there has been an increase in pupils attending the KS2 Tag Rugby Club. Pupils joining local clubs, where they have been training and playing matches with them, have further enhanced this. The impact on lessons, club and our own performances at the local schools festival were clear to pupils, staff and parents, where the school came 4th in their morning group and second in their afternoon group. They won a number of matches this year and competed well in both the morning and afternoon sessions.
Next Steps…
Review resources, including playing equipment and possible new kit
Encourage a greater take up from pupils playing the game at school or at local clubs -10% of KS2.
Sports Funding Priority Areas 2017-18
Increase participation / self-efficacy of reluctant / non-active pupils

Set up a Change for Life Club

Provide opportunities for identified pupils to participate in at least 3 inclusive activities throughout the year.

Design and purchase new school team sports kit

Increase involvement of reluctant pupils through development of Sports Reporter activities

Set up 'Sports Reporters' Club to write termly sports newsletter. Explore development of oracy skills through video commentary.

Promote and resource a Healthy School Week

In conjunction with Healthy Schools Award application, work with School Council and external expert to plan HSW, including skipping activities, CPD and resources

Focused development of resources / new opportunities:

Racket games

Purchase new resources

Develop staff expertise

Join Wiltshire Tennis Association

Sign up to Primary Mini-squash programme or badminton

Organise coaching / INSET

Participation in Y3/4 mixed tennis festival and Y4/5 Mini-squash or badminton festival

Signposts to local clubs